28 / Sep / 2022
October 2022 SILVER Tier Wine Club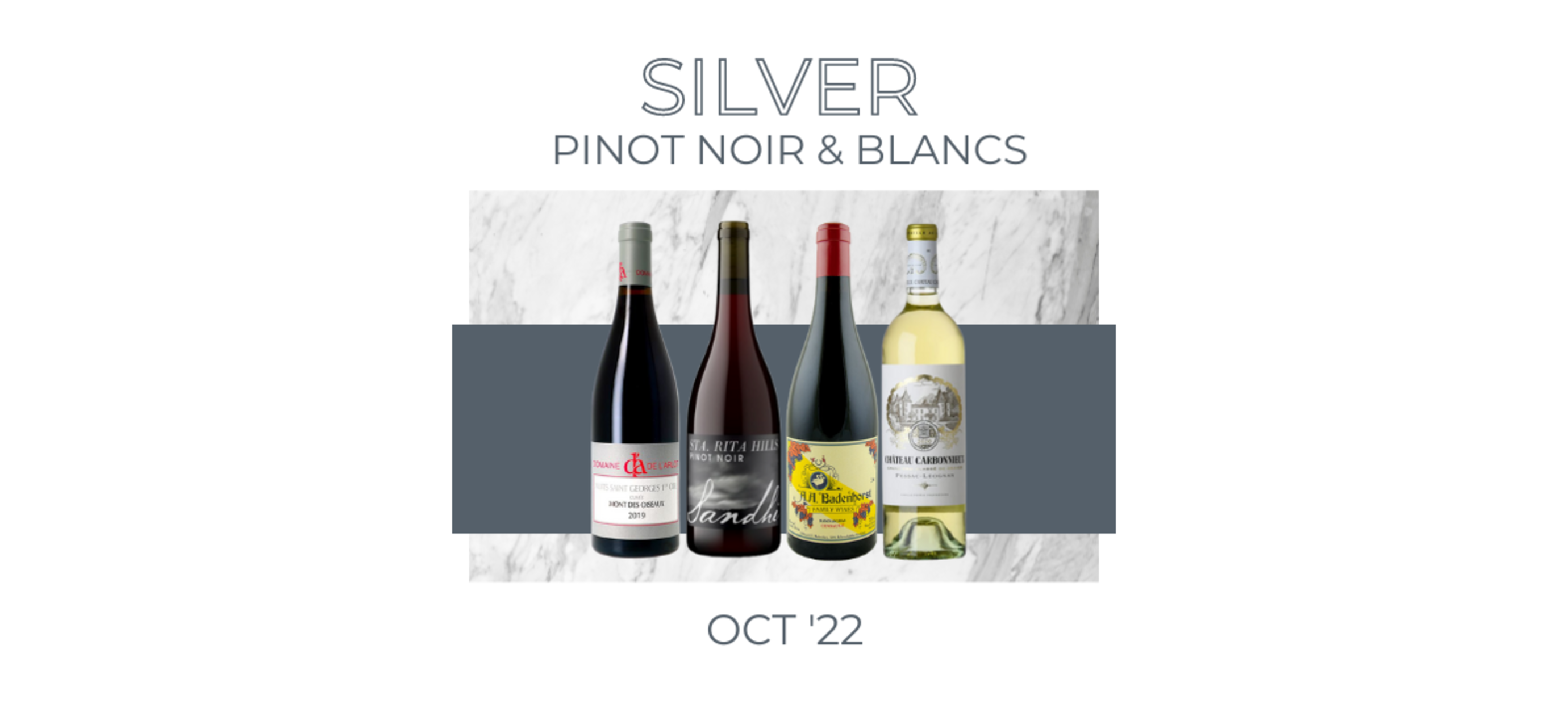 TWO PINOT NOIRS & TWO BLANCS
2019 Domaine de l'Arlot Nuits-St-Georges 1er Cru 'Mont des Oiseaux', Burgundy, France
Two kilometres to the south of Nuits Saint Georges, at Premeaux-Prissey, the Domaine de l'Arlot is a classic example of an ancient Côte de Nuits Burgundian property.
Mont des Oiseaux is a cuvée produced in small quantities from Clos de l'Arlot's youngest vines, an estate Monopoly.  It comes from the upper part of the Clos with a white limestone soil, and from a plot of young vines located at the bottom of the Clos on marl soil.  
The nose offers delicate notes of fresh fruits such as redcurrants, blueberries, lychees, cradled by timid milky and floral notes. The palate is balanced by its silky tannins and mineral quality. A mouth-watering wine that expresses all its complexity.    It has great cellaring potential, but can also pair right now with fish, duck, and fruit-based desserts.   
2019 Sandhi 'Sanford & Benedict' Pinot Noir, Santa Rita Hills, Santa Barbara County, California
This delectable, single-vineyard Pinot Noir is a beautifully layered and nuanced wine with notes of sweet red cherry, pomegranate, blood orange, mint and white pepper. The wine is wonderfully deep, fleshy and nuanced.
The north-facing Sandford & Benedict vineyard, where it all started for this region in the 1970s, winemaker Sashi Moorman explains is colluvial soil made up of slope wash from the mountains and periodic flooding of the river. It is well-drained but rich, its north-facing aspect helps to retain the brilliant acidity apparent in the wine. It is this relative richness of the soil that explains the absence of the heavily reduced aromas: there are enough nutrients in the soil and therefore in the fruit to ensure a stress-free ferment.
"Sandhi,"in Moorman's words, "is the brainchild of Raj Parr" who was on a mission to find a place where he could grow Chardonnay & Pinot Noir at the level of fine Burgundy.  Raj Parr is the wine director of the esteemed restaurant group from superstar chef Michael Mina 
93+ points - Robert Parker
93 points - Vinous.com
2017 Chateau Carbonnieaux Pessac-Leognan Blanc 'Grand Cru Classe de Graves', Bordeaux, France
Love Sancerre but want something a little richer?   Love full-bodied white wines but don't want a mouthful of oak and butter?   Then this is white wine for you! 
Chateau Carbonnieaux has the honor of being not only one of the oldest estates in Bordeaux - going back to the 12th century - but producing red AND white Bordeaux.  It's the white wines here, crafted from Sauvignon Blanc and Semillon, that make this one of the most esteemed wines in the world.    The nose displays the characteristic citrus fruits of Sauvignon Blanc, while the body showcases Semillon all the way with a rich and round, well-coated palate.  The finish is a cacophony of aromatic complexity both floral and fruity with lemon, apricot, and white peach
Aside from our fanatic fervor for this blend, the critics also agree!   Decanter Magazine - the British publication that is the authority on Bordeaux - gave this wine a whopping 95 points, saying it's a "fine example of what 2017 can deliver in the best whites"
2018 A.A. Badenhorst Steen 'Dassiekop', Swartland, South Africa
Crafted from mostly old bush vines planted in the 1950's and 1960's to Chenin Blanc, unirrigated and farmed as biologically as possible. The vineyards are planted on north, east, and south facing slopes bringing tremendous variety to the fruit. The 'Dassiekop' site, which means Golden Slopes, is found high on the Paardeberg mountain and was planted on steep terraces in the early 1970's by the father of Adi Badenhorst's neighbor.  
The Chenin Blanc fruit is whole bunch-handled so no crushing or destemming takes place. It is then transferred directly to old casks or into old 1200L foudres for the fermentation and maturation of 15 months. Sulfur addition is minimal to create the best untamed expression of these old vines. 
"For me the this is the finest Chenin Blanc or Steen vineyard and site in the Swartland. The rare combination of the perfect match between site, varietal and age of vines is truly expressed in this wine. Exceptional mouthfeel, texture, freshness and concentration of fruit are the norm from this site. This wine is not released annually." - A.A. Badenhorst, winemaker