31 / Oct / 2022
November 2022 SILVER Tier Wine Club - All Whites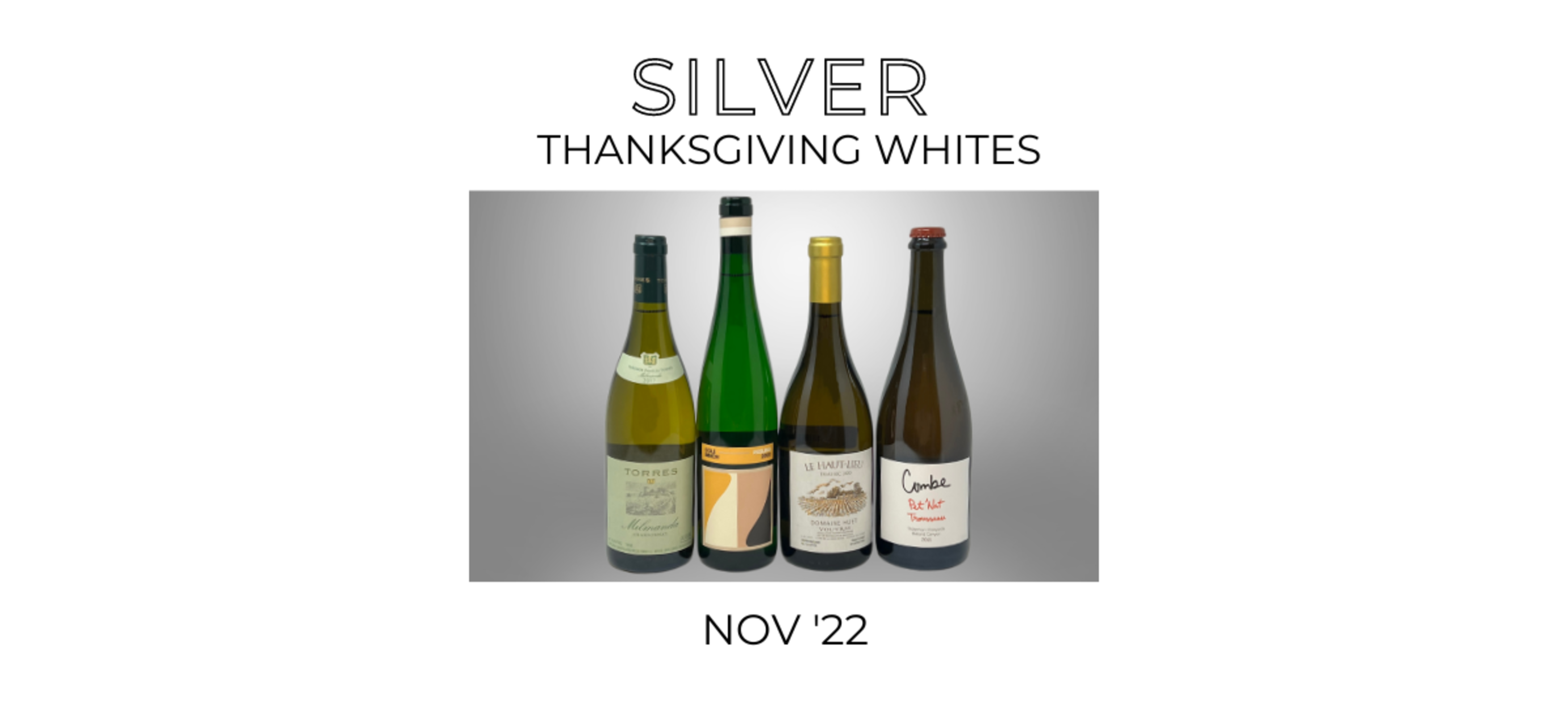 November Silver Pack - Thanksgiving Whites:
2021 Stolpman Combe Trousseau Pet Nat, Ballard Canyon, CA
Vibrant, glowing pink and peach hue.  Fine but robust bubble.  Fresh tropical fruits and high-toned, energetic red fruit.  Steely and lean, yet chalky with a subtle, lingering richness.  Buzzy, fizzy splendor from the mid-palate through to long after swallowing.  More coating with bigger fruit than ever before.  A full, fleshy sparkling wine, the best Combe Pet'nat to date.  Berry parfait in a glass!
Pete Stolpman and Rajat Parr's Esoteric Partnership "Combe" means a "small sheltered valley within a vineyard" in French.
When Rajat Parr began making Sandhi Chardonnay alongside Stolpman in the Lompoc Wine Ghetto back in 2010, he immediately started a campaign to plant Trousseau on Stolpman's Ballard Canyon Limestone soils.  Vignerons in Jura seek out Limestone for their Trousseau plantings, and Rajat theorized that Trousseau, a varietal that often has difficulty achieving ripeness, would flourish in the sunny, arid Ballard Canyon wind tunnel.  
2020 Rootdown Cellars Riesling 'R2' Cole Ranch, Mendocino, CA
The Cole Ranch AVA in California is the smallest in the entire country.  Located on the Boonville grade in between the Anderson Valley and inland Mendocino county, it has some of the oldest Riesling vines in the state.  
The "R2" is a cacophony of flavor for the taste buds.  We all took a sip and looked at each other and said "yes" without actually speaking.   That's what fruit from this vineyard does.  
Green-blue notes of green apple, kiwi, elderflower, and mint cross paths with scrub brush, pineapple and resinous eucalyptus on the nose. An assertive palate turns up chewy salted lime texture, limestone chalk, and a breath of cool resinous herbs to finish.
2017 Torres Chardonnay, Penedes, Spain
Milmanda is a crisp, refreshing white wine with lively aromatic expression and a medium body. Notes of oak and orchard fruit dominate the palate supported by layers of ripe pineapple, bright citrus and a smoky finish. This is a Chardonnay to enjoy with roast pork or barbecued seafood. - Winemaker notes
The area of Penedes, just outside of Barcelona, is home to some of the best white grape varieties for the sparkling wine Cava. The cool-climate here also makes Chardonnay a star in the still white wine category, and can easily find it's way into a lineup of some of the best California and Burgundian whites. 
"Wow. A glorious chardonnay that I have been admiring for decades. It's full-bodied with layers of ripe apple, hints of white peach and nougat and vanilla undertones. Creamy. It's full-bodied and gorgeous all the way through." - 95 points, James Suckling
In 2020, Familia Torres Winery is celebrating their 150th anniversary, but the family's roots extend even farther than that. The first mention of the Torres wine family was in 1557, but the winery wasn't established until 1870, when the profits from the family shipping company made it possible to enter the commercial wine space.
Miguel Torres Vendrell founded the company, and since then, the family has passed on the winery (and the name Miguel) steadfastly from generation to generation. They hit a setback when the winery was bombed during the Spanish civil war, but Miguel Torres i Carbó rebuilt, and began the bottling and exporting of the wine.
2020 Huet Vouvray Demi-Sec, Loire Valley, FR
"Pear and pineapple aromas meet fine, floral characters in the 2020 Demi-Sec Le Haut-Lieu. While this wine's edges are rounded, it is refined and elegant. It has a sense of density on the mid-palate, but it's not about weight or richness despite its demi-sec status. The wine has an intensity and a structured core reflecting the naturally low yields here. While there is 20g/L of residual sugar, a sense of freshness and underlying urgency pulls this wine through, leaving an off-dry impression." - 97 points, Vinous.com
Since its founding in 1928, Vouvray's Domaine Huet has been the standard-bearer for great, age-worthy Chenin Blanc. And to this day, year after year, the estate produces some of the world's most compelling white wines—and in a remarkable range that spans sparkling, dry, semi-dry, and breathtaking dessert styles.
Today, Domaine Huet may be making its most consistently great wines. As was one of the earliest adopters of biodynamic practices, and with years of experience working with the appellation's greatest terroirs, winemaker Jean-Bernard Berthome and his team are achieving a fascinating level of transparency, purity, and knife-edged balance in the wines.