31 / Oct / 2022
November 2022 GOLD Tier Wine Club - All Reds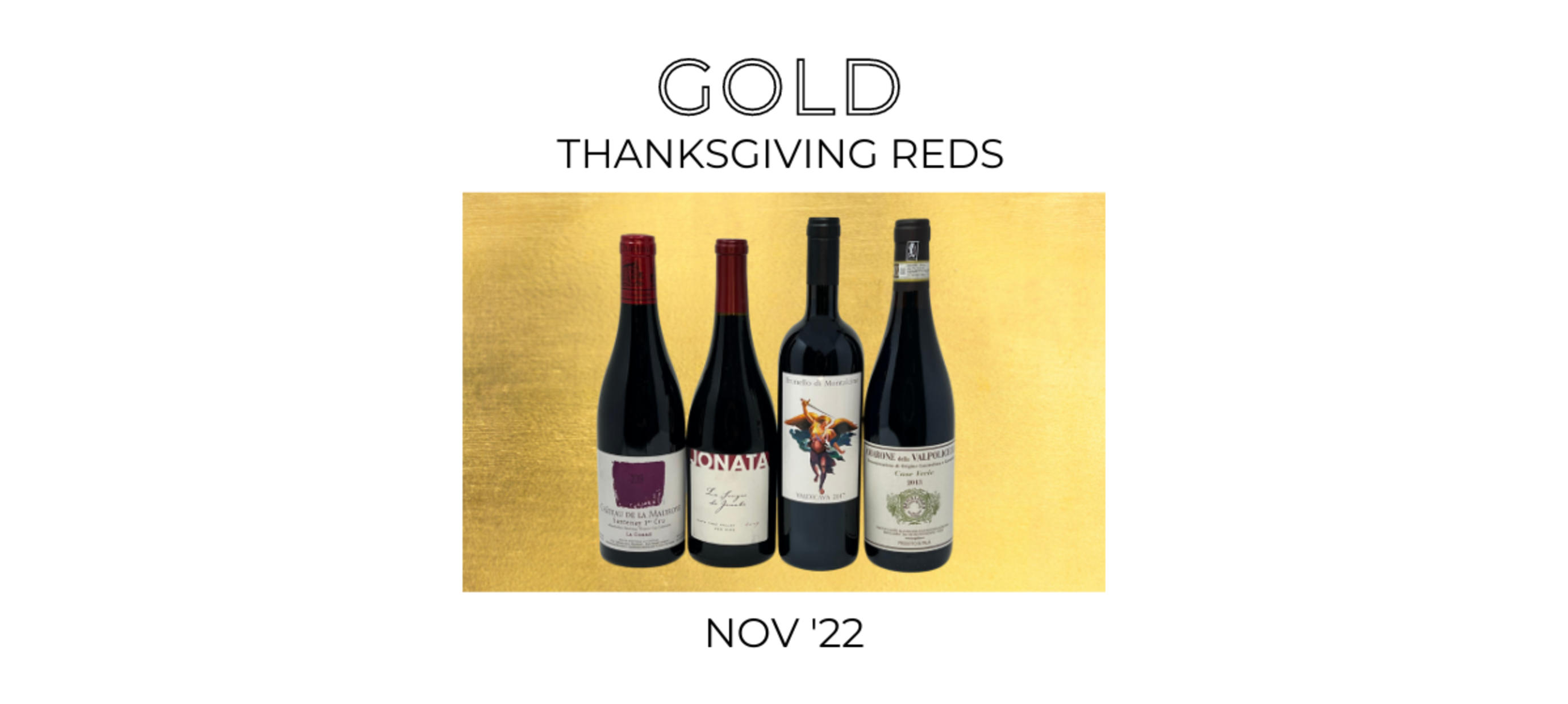 November Gold Pack - Thanksgiving Reds:
2009 Jonata Syrah 'La Sangre', Santa Ynez, CA
Jonata is the embodiment of land, soul, and people coming together for a common goal; to produce singular wines from a singular place.
Land – Jonata is a stunning 600 acre property, with 80 acres of estate vineyard on golden rolling hills in Ballard Canyon. High concentrations of Careaga sand run through the estate. A challenging landscape for cultivation and a key element to the qualities of Jonata, pushing our vines to drive deep in search of nutrients.
Soul – Timeless and diverse practices are in place to create health and community at Jonata. Polyface farming practices are implemented to create a diverse and sustainable ecosystem, utilizing a blend of sustainable practices that continue to build the health of Jonata.
People – Since 2004, a consistent team remains at the core. Winemaker Matt Dees & Vineyard manager Ruben Solorzano combine their experiences in winemaking, soil science and farming expertise to help Jonata thrive.
"With eight hours of decanting: Floral notes begin to appear, the density becomes more evident and the finish begins to show its seemingly endless flourish. At the beginning of day two, this wine has decided to speak in more depth. As it comes out of its shell, the 2009 reveals itself to be the most powerful and potentially age-worthy Sangre to date, as black fruit, black spice and meaty notes dominate the nose, the palate and the finish. By day three it's in full glory—a shy and mysterious bruiser of a wine that promises years and years of development and beautiful drinking (as if you can wait three days to drain the bottle). The most "wow" I've sensed in a young La Sangre to date." - Matt Dees, Winemaker
99 points, Jeb Dunnuck; 94 points, Robert Parker; 92 points Wine Spectator
2013 Brigaldara Amarone della Valpolicella 'Case Vecie', Veneto, Italy
Amarone Case Vecie borrows its name from the homonymous vineyard located in Grezzana - Valpantena. An extraordinary plot of land planted with vines where altitude and exposition enable the grapes to undergo a slow and constant ripening, even during the hardest years. The late harvesting period enables us to put the grapes to dry in a colder period of the year, undergoing a slower and longer drying process. Amarone Case Vecie is a wine that is designed to enhance the natural characteristics of a high altitude climate: a true Amarone "Vigne Alte" - a high-hill Amarone.
Corvina 39%, Corvinone 30%, Rondinella 31%
Deep ruby. Very ripe, almost roasted nose of dried cranberry, kirsch, brown spices, figs macerated in sugar syrup and botanical herbs. Then fresher and suave, with clean and precise flavors of cinnamon, pepper, tobacco and potpourri. Finishes long with young, chewy but polished tannins.
2017 Valdicava Brunello di Montalcino, Tuscany, Italy 
"This wine has intense aromas of balsamic, black cherries, cocoa, coffee beans and a hint of licorice at the very finish. The tannins are elegant and well integrated and feature a nice brightness given by the acidity of the wine." - Winemaker Notes
95 pts, James Suckling; 94 pts Robert Parker's Wine Advocate; 91 Wine Spectator
2019 Château de la Maltroye Santenay Rouge 1er Cru 'La Comme', Burgundy, France
Santenay red wines show the true essence of red Burgundy at good price points and without demanding a lot of cellar time. Enticing aromas of rose-petal, violet, red fruits and licorice lead to sturdiness on the palate. With soils rich in oolitic limestone and marl, this is the home of well-constructed, hearty Pinot noir and represents a fantastic region to explore if you are just beginning your understanding of red Burgundy.
The Château de Maltroye is a wonderfully restored bourgeois house. Built in the 18th century over the burnt-out ruin of a previous (15th century) building; the beautiful vaulted cellars date from that older house. It is a real compliment to the current owner, Jean-Pierre Cornut. The domaine today covers around 15 hectares – 2 of which are Santenay, the rest is Chassagne, 40% of the total is red. Jean-Pierre points to the change of fashion: both the Clos St.Jean and Boudriottes were at one time almost all pinot noir. Jean-Pierre restricts yield by green harvesting. The reds are fully de-stemmed and go into temperature-controlled tanks for a 10-14 day cold maceration, before completing fermentations in a roughly 30 day cuvaison. The whites start their fermentations in stainless steel and are then transferred to the barrels when part fermented. The barrels for the reds are kept underground, and the whites at ground-level, but the white 'cellar' is temperature controlled. Sometimes Jean-Pierre will warm the cellar to prolong his fermentation, or cool it to try and precipitate the tartrates from the whites while still in barrel.