01 / Nov / 2022
November 2022 BRONZE Tier Wine Club - All Reds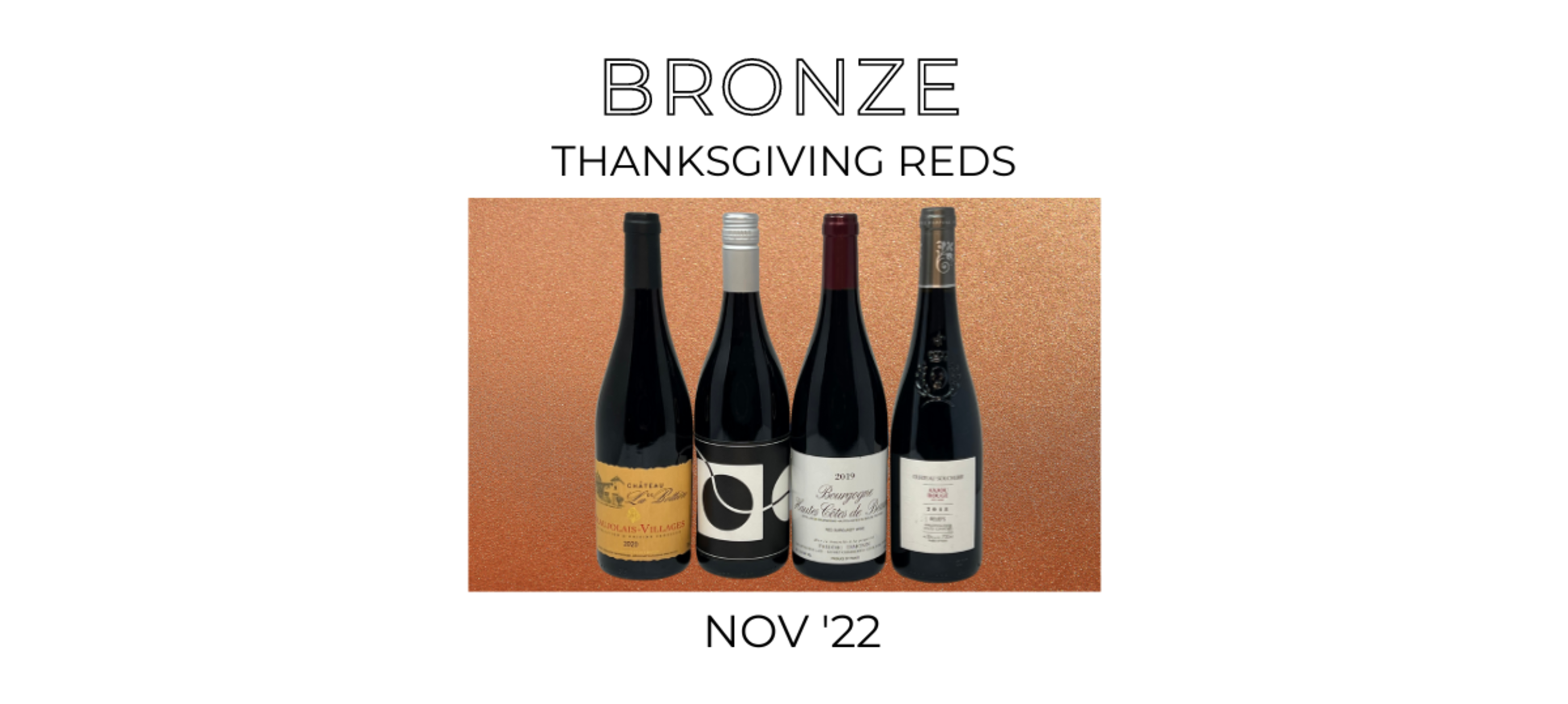 November Bronze Pack - Thanksgiving Reds:
2020 Bottieres Beaujolais Villages, Beaujolais, FR
This Bottieres Julienas blew all of us away at BFW.   Rock this wine with veal & mushrooms, skirt steak with shallots, and cream of lentil soup. 
Juliénas wines grow across the southern and south-eastern slopes of Mont du Bessay, which has a wealth of different terroirs. This hillside is divided into zones of granitic, sedimentary and "rotten rock" soils, which is what makes it possible to store these Beaujolais crus for several years without losing any quality. Subtly spicy, this appellation lives up to its name, which it gets from a certain emperor.
2018 Soucherie Anjou Rouge, Loire, FR 
This Anjou has only one vocation: to express the fruit in a gourmet register, round and fresh. Composed of cabernet-franc and grolleau, it has undergone cold pre-fermentative maceration which has extracted and preserved the freshness of its grape varieties. The wine was then aged for 9 months.



2019 Esmonin Hauts Côtes de Beaune, Burgundy, FR  
This is a lush, expressive Pinot Noir from one of Burgundy's most esteemed producers. Dark cherry fruit and mellow floral notes about, while the palate is elegant and refined. Versatile enough for your favorite dishes, including roasted chicken, herb crusted pork roast, and vegetarian cuisine.
Domaine Frédéric Esmonin, from Burgundy's Gevrey-Chambertain appellation, is a true family collaboration that consists of Frederic, his father, André, and his mother, Michele. They have been farming their 10-acres of family vineyards for generations and selling their fruit to the likes of Drouhin, Jadot, and Leroy. In 1988 they began to commercialize their own labels today they are producing consistently high-quality, beautiful wines that represent a great value considering their pedigree.
2020 Portalupi Lotto Cinque, CA 
Made from equal parts, give or take, of Zinfandel and Sangiovese.   It's fruit-driven, jammy red that engulfs the palate, but just when you think it gets too much, the Sangiovese's acid pushes the Zin fruit away and you're left with an amazing wine... and a big smile.  
It's hard to believe how good of a value this wine is, as it tastes like wines for double or triple the price in California.   
Pair with weeknight grub, cheeses, or knock back by itself.